Denne guiden viser hvordan du kobler til en MS SQL.database som du har laget hos oss.
Vi anbefaler at du laster ned Microsoft Management Studio for å administrere databasene dine.
Begynn med å logge inn i Loopia Kundesone og gå til Kontoinnstillinger > MS SQL-informasjon.
Her må du skrive inn eller huske Databasenavnet og Server, deretter kan du lage en bruker lengst nede på siden.
Start deretter SQL Server Management Studi og fyll i Seerver Name, Login og  Password med informasjonen fra Kundesonen, Server name = Server: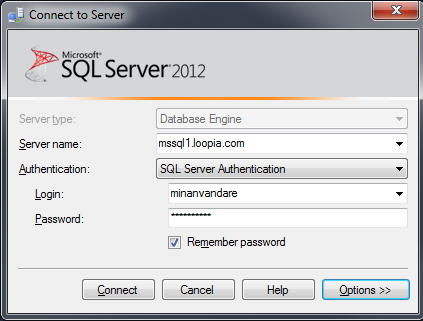 o

Klikk deretter på Options >> og gå deretter til kolonnen Connection Properties:
Her må du fylle i  Connect to database og klikke i Encrypt connection, Connect to database = Databasenavn.
Deretter skal du kunne koble til din MS SQL-databaser ved å klikke på knappen Connect.